The Only Purpose-Built
IT & Security Management Platform for

DO-IT-ALL

IT Professionals.
Get everything done; efficiently, effectively – and for less.
Get Started
One Integrated Workflow
Overcoming the Challenges of the Over-Worked
MSP and Internal IT teams don't have the resources for specialized personnel. Every technician needs to be Multi-Functional – one person or a small team has to DO-IT-ALL, bouncing between different applications and tools.
IT Complete is built specifically to serve these over-worked, under-resourced, under-funded, and under-appreciated IT generalists.
IT Management For
MSPs
Tasked to serve dozens of clients and meet every need, today's MSP needs EFFICIENT & PROFITABLE tools to compete.
Learn More
IT Management For
Internal IT
Constrained by small budgets but driven by businesses with big dreams, today's SMB IT team needs to DO MORE – WITH LESS.
Learn More
1. Vendor Fatigue
Too Many Tools & Vendors
Small IT teams have to cover every piece of technology a modern business needs to function. Every problem or task requires a tool, leading to dozens of different products, interfaces, licenses, contracts, bills and relationships to manage. It's exhausting; it's vendor fatigue.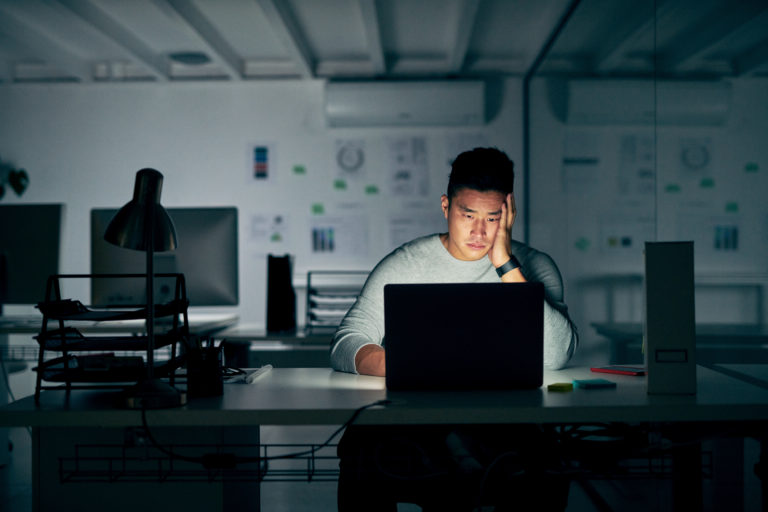 2. Lost Technician Efficiency
Painfully Complicated Workflow
The overworked technician must bounce between dozens of products in order to remote into a system, patch it, back it up, secure it, etc. – because the tools are not integrated. These patchwork solutions work against the technician, leading to frustration, wasted time, and a lack of efficiency in everything they do.
3. Limited Software Utilization
Unrealized Potential
With so many tools, mutli-function technicians rarely tap into the full depth of value from their software. They simply don't have time to keep up with changes. The lack of utilization equals wasted opportunity, and sometimes wasted money buying new tools you don't need.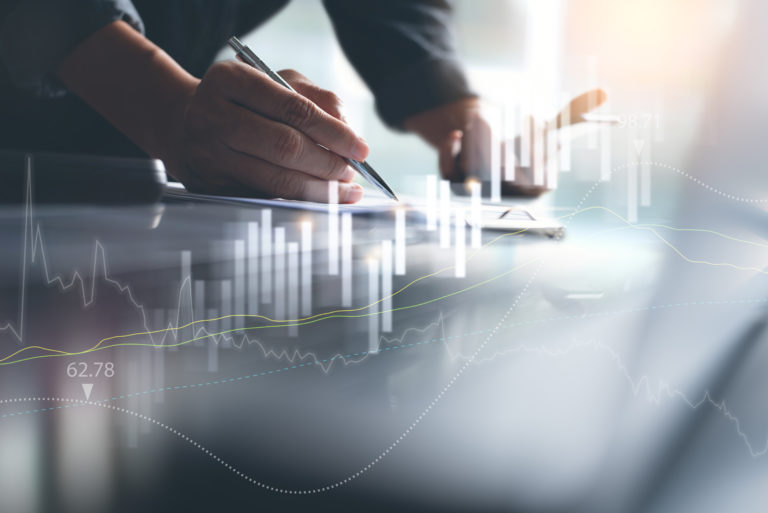 4. Limited Software Budgets
Frustrating High Costs
Buying dozens of high cost tools adds up. Plus, with so many contracts, relationships, and bills to manage, it is inevitable that money will be lost in waste, overpayment, and time. That's time and money that could otherwise be spent servicing users and the business.
Kaseya's IT Complete is the world's first and only purpose-built platform designed to directly address the challenges of DO-IT-ALL, multi—function, IT professionals. One vendor with everything you need, woven together to save you time, smart enough to help you get more done, and in a way you can afford.
Get Started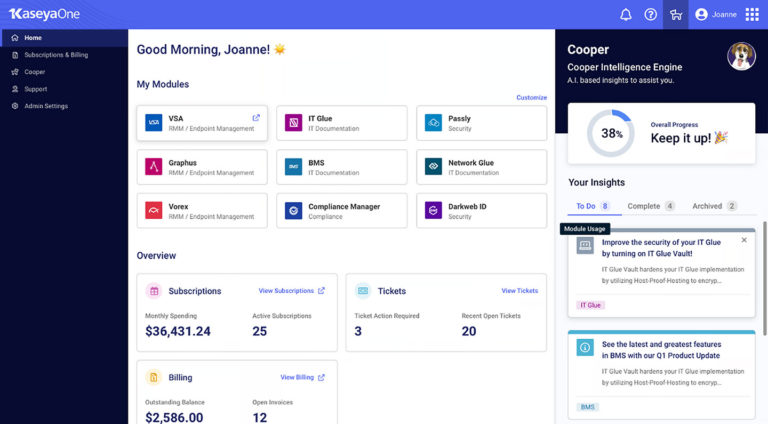 Purpose-Built
Complete
Our platform includes over 40 modules of IT & Security Management solutions. In many cases you'll find more than one option, providing you with greater choice and flexibility to select the best tool for your environment. Each is a robust, best-of-breed application designed with the multi-function technician in mind. Each interface is designed to echo the others to save you time, and each application is automated and streamlined for the demands of a busy IT professional.
Learn More
Purpose-Built
Integrated
Each module and suite is united through an industry-leading INTEGRATION HUB, that allows every application to talk to every other application. This means our integrations are built to last. They're also much smarter, designed to save you time on the repetitive tasks that eat up too much of your day. Creating integrations that are built to last is the motivation for our acquisitions and decision to support multiple options within a category.
Learn More
Purpose-Built
Intelligent
IT Complete includes a partner to help you get more done and maximize your use of its features and integrations. Cooper, our Utilization AI, looks at how you can better leverage your Kaseya solutions. Cooper knows what you have and can point out the opportunities while ensuring all the power stays where you need it – in your hands.
Learn More
33
%
Profit Margin Increase
74
%
Customer Satisfaction Increase
25
%
Technician Efficiency Increase
Purpose-Built
Priced-Right
We strive to price our products roughly 1/3 less than competing solutions. The overworked and under appreciated small IT teams found in MSPs and Small Business don't have the luxury of massive budgets, they must find ways to DO MORE WITH LESS. We've responded to meet that requirement with a full range of aggressively priced solutions.
Integrations
Complete integration

is the 'flow' of 'workflow'

Our real workflow integrations are governed solely by Kaseya, and joined not application-to-application, but through our sustainable integration hub. The IT Complete platform has more than 70 workflow integrations and adds 6-8 more each quarter.

Learn More
Integrations & Automations Built to Last…
Unlike cosmetic API-to-API integrations between 3rd-parties, we own the underlying applications, which allows us to build meaningful, efficient, time-saving automations to drive true technician efficiency.
Here's a peek at what we have on our development roadmap…
Client Testimonials
Hear what our customers are saying
"Kaseya has a broad umbrella of technical tools, and at the same time, Logically has a need to standardize our tech stack on best-of-breed solutions while minimizing the number of vendor relationships to maintain. So, it's just the marrying of those two. To me, this has been the definition of a partnership," Chris explained, adding "Kaseya is the difference between a partner and just another tech vendor."
"We chose to build the majority of our stack with Kaseya because we found that our goals and values directly aligned with their products, services and people."
"Kaseya's products are mature so you can put what you need in, and get out what you need tenfold"
"With Kaseya, we've been able to significantly improve our ticket resolution time. BMS enforces more details in our help desk process, and now it's easier than ever to find those details and other relevant information with IT Glue"
"The synergy between Vorex, IT Glue and VSA allowed us to scale our service level to that of a 10-12 person IT department with just the two of us. Also, being able to consolidate (and trust) billing has saved us more than 50 hours per month alone."
Our Suites
Purpose-Built for
Multi-Function IT
IT Complete is built to serve the over-worked, under-resourced, under-funded, and under-appreciated IT generalists with a robust yet simple set of tools.